So I know Christmas is only 11 days away (when did THAT happen?!), but the blog needed a bit of sprucing up.
I was a little bored with the header, so I changed it up and changed fonts and colors to be more seasonal. This also gives me two weeks (or, til the new year) to figure out what to do next. I drew inspiration from our photo Christmas cards we used this year (remember that blogger Shutterfly promotion I participated in? We saved over $100 with it! Thanks Shutterfly!)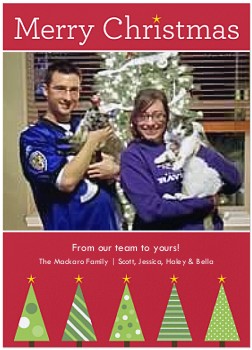 Starlight Trees Christmas Card
I should've ordered a few extra cards than the 50 we got with the promotion, because I had to run out to Target and buy some other cards for a few people. I felt really bad about it, but couldn't justify spending a ton of money on expedited shipping to have them before Christmas.

Anyway, life has been nuts! I guess that's to be expected this time of the year. My Etsy shop saw its first sale last night (thanks!!!) and that should go out tomorrow… just have to put the finishing touches on it tonight.
My second class ends on Sunday, and I've been working on my final project. Then I have a couple weeks of break until the next class starts on Jan 10. So far so good, with an A in the first class and as long as I don't blow this final paper, I'll have an A in this one. I was approved yesterday for my next two classes, which will take me to May, and I'll be 1/3 of the way through the degree program. Shew, these accelerated courses are tough and fly by!
In other 101/1001 news, I finished a new book – Safe Haven by Nicholas Sparks. I know, I know. It was kind of a cop out, as his books are easy, easy reads. But that completes another book. I'm also in the middle of Eat, Pray, Love and also have The Girl who Kicked the Hornet's Nest to finish soon. I have a few others waiting in the wings, and I'm pretty excited about those.
Last week we ate at another new restaurant that I've heard nothing but good reviews over: The Village Tavern at Flatirons Mall in Broomfield. It's a steak and seafood place, and S and I split ahi tuna shashimi, crab dip and a steak with a port wine sauce and fries. Pretty darn good if I say so myself – definitely worth the trip (but be prepared… it's a little $$… thanks The Great Indoors for our mattress rebate!)
And, I broke down and bought flowers for the house last night at Costco. Beautiful roses, daisies, pine and pinecones. They look great in our window sill in the kitchen!
I think that's all for now. I know it's been awhile!